Meet Our Experts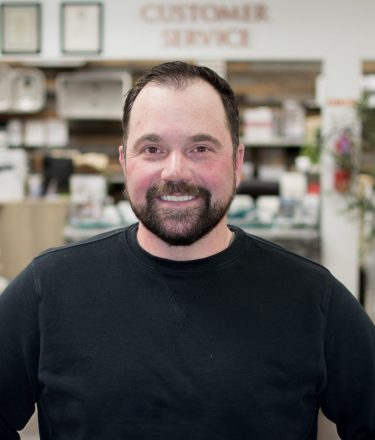 Troy A. Pefley, President/Owner
Email: troy@royalcarpetone.com
Meet Troy, the Owner and President of Royal Carpet One, whose flooring journey began at the tender age of 6 when helping his grandparents run their flooring installation business. In 2012, he revitalized Royal Floors, later evolving it into Royal Carpet One Floor & Home in 2017, expanding services to include stone fabrication and an extensive tile center.
Today, he carries on his family's legacy by working with his valued customers and as a devoted community figure, sponsoring youth organizations and actively engaging in community development. Beyond the flooring world, Troy loves to travel, is an avid outdoorsman, and is a loving father to his two teenagers and one toddler. With a skilled team of employees, a Flooring Contractor's license in Nevada and California, and his Tile Contractor's License in Nevada, Troy and his crew look forward to elevating your flooring experience.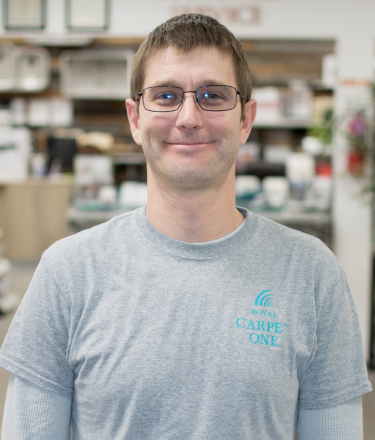 Nick Rogers, Warehouse Manager
Email: nick@royalcarpetone.com
Meet Nick Rogers, our Warehouse Manager extraordinaire! Nick's warehouse management skills are legendary; he knows every nook and cranny of the Royal Carpet One like the back of his hand. You may even catch him out front setting up new flooring displays! Nick's been an integral part of the team since 2004 when he started as Troy's Flooring Apprentice in the early days of "Troy's Carpet Installations."
Today, Nick's in charge, ensuring everything runs smoothly. Plus, he's the first to greet our install teams and he preps their materials effortlessly. Beyond work, Nick's a former race car driver in the IMCA Modified class turned semi-professional drone racer, bringing a taste of adventure to the team. With his exceptional organizational skills and cheerful demeanor, we're lucky to have Nick on board!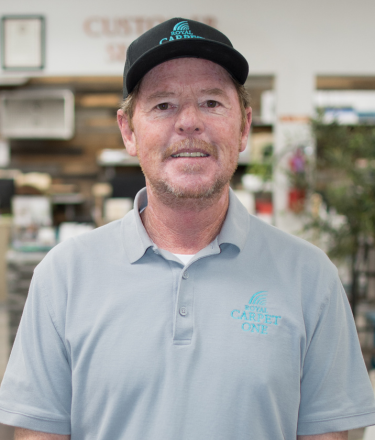 Danny Owens, Lead Estimator
Our Lead Estimator, Danny, offers over 7 years of dedicated service. For the past 5 years, he's been our go-to estimator and, with a wealth of knowledge, he's a true gentleman who embodies our company's values. Danny is also our window coverings installer, and his cooperative and flexible nature makes him a valuable team player who's always ready to step in wherever needed.
With a background in installation, Danny brings a crucial perspective to assessing flooring sites, making demo days far less surprising. Outside of work, Danny loves to spend his time fishing and camping with his family. Danny ensures every one of our customer's projects exceeds expectations, and he is a key asset to our team!

Al Worley III, Commercial Sales Manager
Email: al@royalcarpetone.com
Albert L. Worley, III, our Commercial Sales Manager, joined us in October 2020 with a mission to lead and expand our commercial division. With over 20 years of experience in the flooring industry, Al is a master craftsman in tile setting and stonework, with previous experience as a tile setter and Lead Estimator for a Reno-based tile company. Al's extensive expertise translates into comprehensive project quotes, ensuring transparency and confidence for our clients.
Beyond his work, Al is a semi-professional cornhole champion and a key player on our softball team. A native Nevadan raised in the Black Rock Desert, Al is a Burning Man enthusiast, semi-professional cornhole champion, avid desert explorer, and a key player on our Royal Carpet One softball team. He's the driving force behind our expanding commercial projects, and his friendly, polite, and humorous nature makes him a joy to work with!

Steve Zizzo, Retail Sales Manager
Email: steve@royalcarpetone.com

Meet Steve Zizzo, our Retail Sales Manager! Affectionately known as "Zippy" behind the scenes, Steve's journey to us reads like fate. When the Nashville flooring store he worked at closed due to the pandemic, Steve relocated to rural Nevada near our Fernley store and answered our employment ad. He officially became part of our team in October 2020, bringing with him over two decades of flooring expertise. Steve brings an extensive background in flooring, thanks to his father and his own Wisconsin flooring store, which he ran from 2005 to 2008.
Steve's meticulous nature ensures our clients have realistic expectations about their flooring projects. However, he's not just a flooring expert; he's a sports enthusiast, an explorer of Nevada's treasures, and a harmonious team player. Steve's leadership fosters a supportive and enjoyable work environment for our sales and installation teams. His caring nature shines through in his dedication to our clients and installers, making him a valuable asset to our team.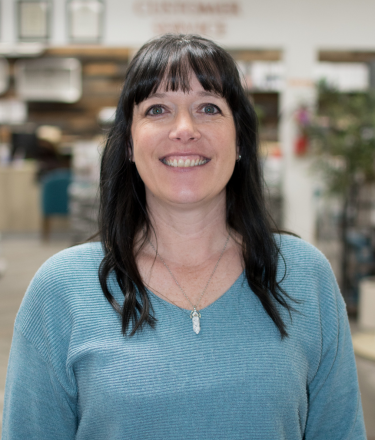 Jackie Smith, Floor & Home Design Specialist
Email: jackie@royalcarpetone.com
Jackie Smith, our newest addition, joined us in December 2022 with 3 years of experience in the flooring industry as a 5-Diamond Certified Floor & Home Consultant. As a Fernley local, she's well-acquainted with the community, making her transition seamless. Jackie's expertise in window coverings and flooring, along with her passion for assisting with color and design selections, shines through in her work.
Outside of work, she enjoys traveling with her partner and cherishes time spent with her three daughters and four grandchildren. Jackie takes great joy in seeing the transformation of clients' homes with new flooring installations, and we're thrilled to have her vibrant personality and professionalism on our team!